Our wonderful President, Veronica Clowes, giving a talk on orchid growing to interested members of the public at Bunnings in July.
At monthly meetings a wide variety of plants are tabled and it is not uncommon to have up to 200 plants on display. Plants are judged by a team of judges and points and prizes are awarded.
Bankstown Orchid Society Inc. meets on the 1st Monday evening of every month in the Georges Hall Community Centre, 188 Birdwood Road, Georges Hall.
The meetings start at 7.30pm and all plants must be benched 10 minutes before the start of the meeting. A small supper is provided at the meetings.
New and Renewal Membership fees – $15 per person.
Posted Newsletter – $15 for 5 issues (free if emailed).
New members are always welcome so please do not hesitate to contact us for information.
To join print the Membership Application Form with your name and address completed, and mail it to us at PO Box 5397 Chullora NSW 2190, or bring it to the next meeting, see below for meeting information.
All members receive the current issue of The Bulletin, the official newsletter of the Bankstown Orchid Society Inc. sent to members five times per year. Regular features include:
Articles of interest to orchid lovers
What's on next
Shows
News and gossip
Members' contributions
Seasonal tips on growing, watering, hormones, compost etc.
Bankstown Orchid Society Inc. meets on the 1st Monday of every month, with the meeting commencing at 7.30 pm. The meetings are held in the Georges Hall Community Centre, 188 Birdwood Road, Georges Hall.
Bi-Monthly Bulletins 2023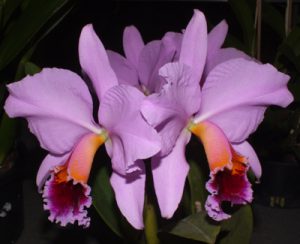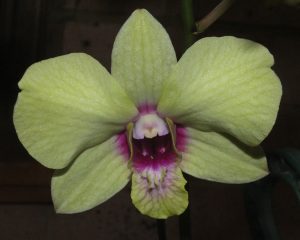 History of Bankstown Orchid Society Inc.
Download .pdf  of the History of the Bankstown Orchid Society written by Jess Brown, a past member of the society.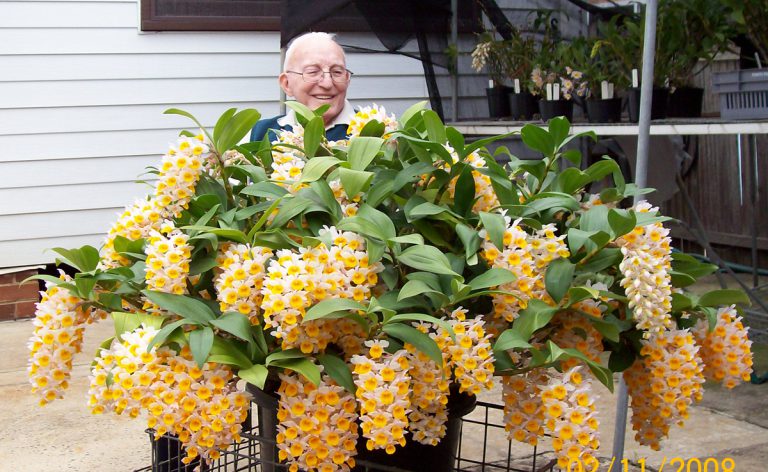 David Lee Snr with his award winning Den. Mousmee
Past and Present Club Officials
Veronica Clowes 2008 – present
David Lee 1983 – 2008
Tom Cooper 1980 – 1982
Herb Jepson 1978 – 1979
Eric Packer 1974 – 1977
Edward Gooley 1973
Jim Brown 1969 – 1971
Arthur Whitten 1966 – 1968 and 1972
Col Graham 1965
Cec Franks 1961 – 1964
Lionel Platrier 1959
Des Langdale 1953 – 1958 and 1960
Mr John Bissett, Mr Bert Schwartz, Mayors of Bankstown, Mr George Colthup, Mr Doug Sheddon, Mr Kevin Hill, Mr Frank Slattery, Mrs Jean Slattery.
L. Platrier, K. Healy, C. Flecknell, M. Morgan, Betty Oldfield, I. Schuberg, Christine Clark, Jim Cootes, L Wood, Gwen Ryan, Joan Ryan, Doris Scott, Ernest Taylor, May Chin – Present
Mr. Kemp, Rex Monk, Terese Bursle, Judith Guttridge, Jack Brown, Karen Clarke, Lyn Donald – Present
E. Nethery, Gwen Ryan, Lyn Donald, Brian Wilkinson, Judith Bowen, Toni Benton – Present
Eric Hayes, R. Austin, Mr. & Mrs. Kemp, Des Langdale, Monty Spice, Arthur & Biddy Whittingham, Cec & Ann Franks, Harry Grantham, Bert Bushell, Rose Cooper, Daphne Cowell, Jack Brown, Tom Bowen, Don Hogan, Harry & Doreen Turner, Brian & Peggy McCann, Hugh & Val Fitzpatrick, John Mata, Eric Packer, Stella Matjaves, Dave Lee Snr., John Westbrook, Marg Yabsley, Stephen Lee, Pat Lee, David Lee, Dick Wren, Veronica Clowes, Lyn Donald, Max Redman and Joseph Chow
E. Nethery, Bert Bushell, Ian Smith, Brian McCann.